(1978 – 2023)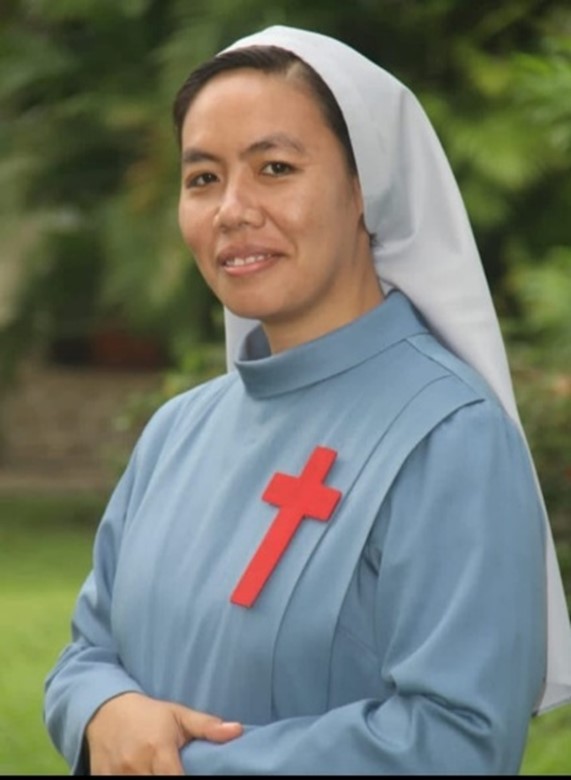 Sr. Natalia Delci Klau, fondly called Sr. Delci, is the eldest of the four children of Balthazar Klau and Hedwig Maria Muti. She was born in Tini, Atambua, Indonesia on 14 December 1978. She was baptized on 04 March 1979, received the First Communion on 25 November 1989, and was confirmed on 29 April 1996.
Sr. Delci arrived in Antipolo City, Philippines on June 26, 1997, to begin the aspirancy in our Congregation. She then proceeded to the pre-novitiate formation on May 31, 1998, and on July 14, 2000, she was accepted to the Novitiate. After two years of novitiate formation, Sr. Delci made her First Religious Profession on July 14, 2002.
On July 16, 2002, she was assigned to the Community of Opera Maria Domenica in Mambugan, Antipolo City where she assisted in the care of elderly women in Bahay Kanlungan ni Maria Domenica. Then on March 23, 2004, she was sent to Italy for the Juniorate formation where she stayed in Trofarello until her perpetual profession on May 15, 2010. She finished the Degree in Religious Sciences in the "Istituto Superiore di Scienze Religiose" in Turin, Italy in 2009.
Sr. Delci returned to the Philippines in mid-2010, and she went for vacation in Indonesia on Sept. 20, 2010. During that period of vacation, she accompanied Sr. Liberty Elarmo (Superior Delegate) and Sr. Bernadette Faustino (Delegation Secretary) from Oct. 22 to Nov 6 in finding the place where the Mission can begin. The family of Sr. Delci was very well-disposed to help our congregation in the mission.
Sr. Delci is one of the pillars of the Indonesian mission. On July 11, 2011, she and Sr. Paulina Pude, with the approval of the General Council, left for Indonesia from the Philippines to start their studies. They embarked to start the mission in Kupang, Indonesia, working tirelessly, sowing the seed of foundation for the mission while preparing themselves professionally at the same time. Sr. Delci received a Diploma in Nursing in 2014.
The Assignments of Sr. Natalia Delci Klau:
Vocation Promoter in the Philippines 2010 – 2011
Fourth Councilor and Delegation Secretary
of the Philippine Delegation 2017 – 2021
Member of the Formation Team of the Philippine
Delegation 2018 – until she passed away
In-charge of the Health Care Center Project in
Oeltua, Kupang, Indonesia 2018 – until she passed away
Directress of Novices in the Philippine Delegation 05 Oct. 2021 (did not pursue due to pandemic)
Formator of Pre-novices in Indonesia 15 May 2022 – until she passed away
Member of the Formation-Vocation Youth Ministry 2021 until she passed away
(Congregational Level)
In the Mission in Indonesia, Sr. Delci was a Formator, Vocation Promoter, Parish Coordinator for children's catechism, and Marriage Encounter Adviser. She was also actively involved in home visitation. It was her heart's desire that the Indonesian mission will have a formation house and that the mission will expand to Flores Island; she truly dreamt to have numerous vocations. She spearheaded the construction of the Health Center which is funded by the CEI, and it was her ardent desire to finish well the construction and that the Clinic will soon operate.
Sr. Delci has truly been very committed in following God's call since her aspirancy and she had progressively grown in all aspects until the end of her earthly journey. We, the Sisters of the whole Congregation, are witnesses to this.
Her presence has always brought joy to all the Sisters, candidates, and all people she met in Italy, in the Philippines, in Indonesia, and in all places where she has been;
Her prayerful, reflective, and positive attitudes contributed a lot in the Formation of Sisters, novices and candidates;
Her courage, resourcefulness, and enterprising character were her great contributions for the beginning and establishment of our mission in Kupang;
Her creativity, patience, calm and untiring attitudes sustained her in all the tasks and responsibilities that were entrusted to her;
But most of all, her great faith, trust and love of God made her live her life in loving service of all.
Let us all praise and thank God for all the gifts and blessings He has showered upon Sr. Delci.
These made her a real Witness of the love of Jesus Christ!
Sisters of the Philippine Delegation (Philippines, Indonesia, India)
24 May 2023